I know you are all wondering about the shawl's from the Knit East Swap.
This is the beauty I received!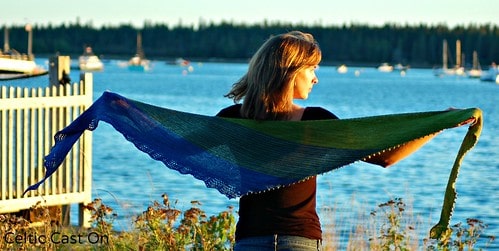 The pattern is Zephyr Cove knit with Malabrigo sock in the colourways Lettuce and Impressionist sky. The lovely knitter was Judy from Ohio!
Sarah and I spotted Judy and Sarah in one of the local restaurants when we arrived on friday night. If it hasn't been for the Knit East group on Rav we wouldn't have recognized them at all but it wasn't until the next morning, looking at the swap master list that I realized Judy was knitting for me and Sarah was knitting for Sarah!
Judy said she had a fun an easy time choosing colours for me. I like to think I'm pretty easy to please, I specified that I love all colours expect pastels. She studied my Rav projects page and came up with this beautiful colour pairing. It goes so perfectly with my grey jacket. Everytime I catch the stripes out of the corner of my eye it makes me smile.
I don't have any striped shawls in my wardrobe although I have favourited oh so many so this really is the perfect addition.
The size was also spot on because I like to wear them as a scarf. I won't have to worry about this one falling off because there is plenty of fabric to wrap around.
Judy couldn't have nailed it any better. It is perfect in every way!
I told Judy I just may have to rig the 2015 swap so I can get another Judy creation….. but I think we need to share her talent around.