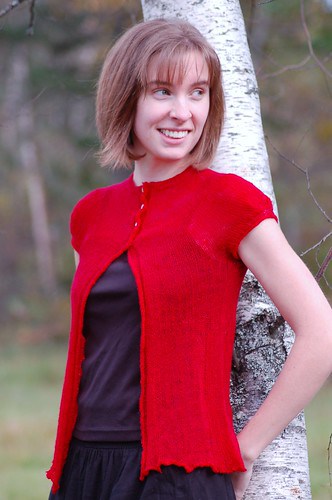 Pattern: Wray by LilyKate *test knit* size 34
Yarn: Filatura Di Crosa Centolavaggi
Needles: 3.5 and 3.75mm circs
I test knit this pattern for Lily and what a sweet pattern it is. Knit from the top down in laceweight yarn, this swing style cardigan has many features that make it unique and tailored. A fluted hem, pleated sleeves, and a true femine style complete this little number. 
A love how delicate it looks in laceweight, but let me tell you folks this pattern is not for the faint of heart, with over 400 stitches per row in the yoke alone it takes a lot of patience. I had my share of mummy brain moments and freak outs but it was nothing that a wee chat with Lily wouldn't clear up. She is lovely!
Every stumble I had along the way was totally worth it to have this lovely completed garment. I have never knit a garment that fit perfectly in every way until I knit Wray. Its like the pattern was tailored just for me and makes me excited about whats to come from Lily!
I just love these cute little pleats Lily added to the sleeves, such a dainty touch!
I've started a LilyKate group on Ravelry if you'd like to join us. We're having a KAL on Lily's most recently published design McCafferty, a beautiful shawl.
This is only the beginning for young Lily, did I mention she was 12 years old?? Such a talent at such a young age, its only a matter of time before big things happen for Lily! Mark my words!