Pardon the unexpected blogging break but I changed  hosts making the blog  down for a bit. The lovely Missa at Knitblog hooked me up. I love my new template, that punch of colour is just what I needed. I think  I'm going to be much happier with this host.
I may not have  been able to blog but I most definitely have been knitting!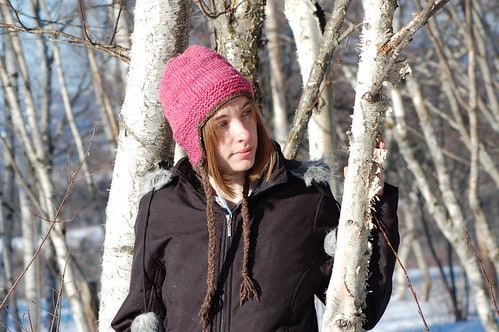 Pattern: Thorpe by Kirsten Kapur
Yarn: Handspun from a local farm
Needles: 5.5mm 's
Start Date:  January 6th 2009
Finish Date: January 22nd 2009
 The last few weeks have been bitterly cold on The Ridge with temps dipping down to the -40's with the wind chill. I had a dire need to cast on for some wooley necessities that would make the month of January go by a bit easier. The first project I was in need of was a warm winter hat. Snowshoeing with the dogs has become a daily event and the hats I was wearing  just weren't keeping out the cold or covering my ears. Thorpe had been in my queue for quite some time and seemed like the perfect fit for what I needed.
The yarn has been in my stash for quite a few years, the only handspun I've ever owned. I knit it doubled for extra warmth and used Queensland Kathmandu left over from Moose's Cobblestone for the trim.  Knitting the hat itself was quite a chore… I didn't have circs in the right size so the whole thing was knit on dpns, talk about annoying. It didn't help that I had to start the thing 3 times either! I'd noticed alot of Thorpe's on Ravelry that were knit in the large size and were loose fitting, I wanted mine to hug my head so I cast on for the small. About half way through I realized it   was wayyy to small so I frogged and started again with the medium. Let me tell you casting on 4 stitches on 4 different needles is no easy feat, I deemed this would be the last time I cast on. The medium just didn't seem be enough again so before I went any further I put a life line in the last increase for the medium. *had my thinking cap on that day* Once I reached the end of the increases for the large I was still unsure that it would be big enough *top down hats and I aren't the best of friends* so I increased a few more rows and carried on my merry way. It wasn't until I had the hat finished and tried it on I realized it was loosing fitting…… just how I DIDN'T want it.
Thank goodness for life lines!!!
I ripped back to the medium life line  added the few increases back up the the large and knit on HOPING this would produce the final Thorpe. This one fit to a T!!
  The result was a warm and snug hat perfect for all our snowshoeing adventures.
Thorpe is a very popular pattern around the blogs right now. If you haven't knit it your already you should only just make sure you try the large size first 😉