I feel like a sock knitting ninja lately. I'm churning socks out one after the other and there is no stopping me!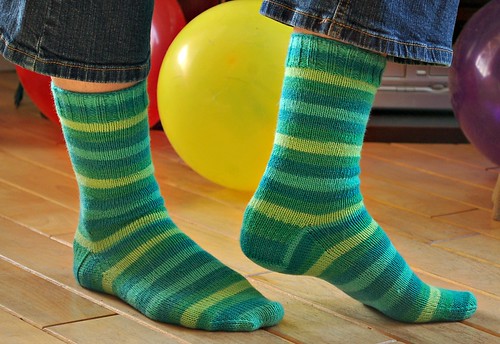 Pattern: My own
Yarn:Knit Picks Felici Aquarium
I grabbed this colourway to start a mindless pair of socks on the way to the aquarium with T and some family. The fashion show from Knit East was held at the Huntsman's Aquarium and while Heidi and I opted to get a good meal in instead of attend the reception before the fashion show, we didn't really get to see much of it while we were there. I knew my little marine lover would enjoy a trip back there and when Grammy suggested it we went on a little road trip.
It wasn't until I pulled out the ball of yarn on the way that I realized the colourway was actually called Aquarium. Once again Felici's stripes sucked me in and these worked up quite quickly. No SSS here!
I was already planning my next pair of socks before these ones were finished. It didn't take long for me to grab the next ball and cast on right away.
 More Knit Picks Felici in Building Blocks this time, a colour that is being discontinued. The pattern is Groovy Socks by Caroline Hegwer. The pattern is free and is basically a 2 row repeat that is easily memorized but creates a beautiful pattern. I'm knitting these top down with a heel flap, a bit opposite to how the pattern is written but its working out beautifully!
Are you knitting any fun socks or patterns at the minute?