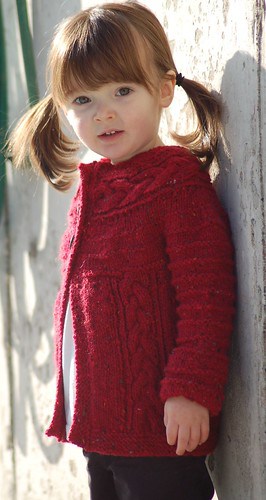 Pattern: Rossbeg from Contemporary Irish Knits
Yarn: Tahki Donegal Tweed
I finished Rossbeg a few weeks ago. I opted to knit the size 3 as T is going through a growth spurt right now and I wanted it to fit for longer than two seconds. I also opted for 3 buttons at the top of the cardigan instead of buttons all the way down the button band. I definitely prefer it that way.
The cardigan is constructed by knitting a strip of cable for the neckline and then picking up stitches along the side of the strip and knitting down. It was a nice change of construction from the norm.
I wouldn't say I'm in love with this yarn choice. Tahki Donegal Tweed is rather thick and thin and doesn't make for a very smooth fabric but it was in the stash and I wanted to use it up. If I knit this one again it will definitely be in a solid colour. *surprise surprise*
There is plenty of growing room in this one and will most likely still fit next year but for now it makes a nice sweater for stopping around The Ridge on cooler days.
I knit Rossbeg for the Contemporary Irish Knits KAL that was happening at the Stolen Stitches Group on Ravelry
We added our finished projects to the voting threads on the group and today the voting will begin. If  you like my version and wouldn't mind popping over there and hitting the love button for me I'd appreciate it.
While you're over there you may as well show Monika'sDangan some love too she's post # 9 in the accessories category!!