So yesterday marked a day…. the day Moose and I officially became farmers!!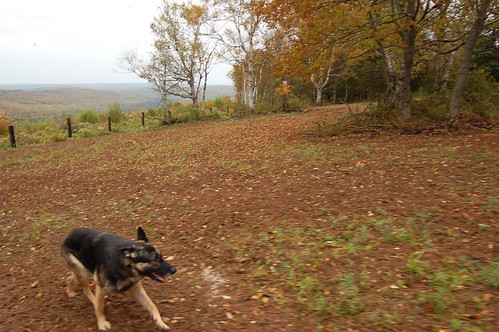 This is the pasture! We've be working on it for months now. See before it was pasture it was tree'd ferny land that we morphed into pasture. From clearing the land and picking rocks…….. picking rocks over 2 and a half acres I might add TWICE!!! Tilling, disc harrowing, are you getting the picture yet??
Yesterday was the day! We walked the pasture and sowed the seed. I am offically a farmer! Aren't I??? Heck yes I am I sowed seed now all we have to do is wait for grass to grow and we'll have us a dang good pasture! We're hoping to get the fencing hung before the snow flies, at least on the outside posts!
A lot of you had noticed in my last post that Autumn has finally hit the ridge.
This is what we get to enjoy everyday!
At first when September hit and  I took the dogs for a walk I could just see a few trees turning yellow. Then it seemed like a whole line across the valley was colourful but when I walked down at the start of this week I was blown away. Full blown colour staring me in the face!! How could you NOT be in awe of that view!! I must say though its even more wonderful in person, you just can't capture that on camera! Once I hit the clearing I gasp EVERYTIME, its soooo wonderful, I'm so blessed to be living in amongst all this beauty!
We don't have many red trees around the house, most seem to be orange or yellow but there is one. One lone tree that I can see while i"m knitting, through the front window and I wish I could just scoop it up and replant it in my yard. It currently sits right across the road from our mailbox.
 Its so bright it just pops out from between all the green foilage. I love it so!
Our CSU *counter squirrel unit* have been busy, chasing squirrels, partridge, and enjoying all the new smells that Fall brings.
My little fern eater Molly is such a good model!
Boston…. not so much. I'm lucky I captured this shot before he bounced off in search of something else.
As much as I love my woodstove… I don't want Fall to end, its such a short time, and my favourite time of year. Soon though the cold will set in and the snow will fly…. I'm not quite ready for that yet!! Hang on Fall, Hang on!