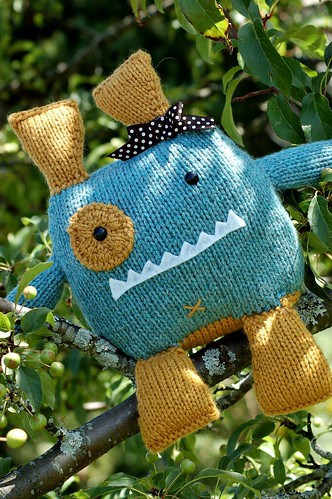 Pattern:Penelope by Danger Crafts
Yarn: Cascade 220 wool and Patons Classic Merino
Needles: 5.5mm circs
Start Date: May 22nd 2009
Finish Date: August 26th 2009
As soon as I saw Grace's version of Penelope I knew I had to knit one for Tadpole.  I could just picture Penelope being trailed from one place to the next in a little chubby hand, chewed on, hugged, and loved for a very long time.
I cast on right away but this monster just wanted to be difficult. I ran out of the contrast yarn not long into the pattern and couldn't find any more Classic Merino in the mustard ANYWHERE. I was rather disappointed and wasn't really excited about having to knit everything all over again and try to choose a different colour. Once I've set my sights on a colour combo is hard to steer me away from it so Penelope languished  in my knitting basket for quite some time hoping for some mustard yarn to magically appear.
It wasn't until we went to the States on our little over nighter that I happened upon an abundance of Classic Merino in none other than MUSTARD!! I squealed with delight in the store and grabbed the ball I needed, I'm regretting not taking a ball or two more but what can you do.
Penelope was back in action once again….. until I ran out of my main yarn…. DOH! I had used the leftovers from my 2830 sweater and thought I'd have more than enough but I knit her double stranded so you wouldn't be able to see the stuffing and ended up running out. Heidicame to the rescue this time and gave me a skein of the same yarn from her bag knitting stash, what a sweetie! I hope she'll have enough with what I had leftover  to knit one of her designs with.
FINALLY Penelope came together nicely in spite of all the yarn issues I had.
I was a little scared, this being my first knit toy, that when it came time to stuff and sew together it just wouldn't look right. Would the seams be too visible, could I get the ears to sit right, would it look lumpy??? Luckily my perfectionst ways shone through and I was able to figure out what worked best for me and looked right on Penelope.
I ordered a sampler pack of safety eyes from Etsy seller 6060 and used the second largest size which I think are perfect. I bought felt from the local craft store and used Aleene's stretchible glue to attach it. I will probably look for a thicker felt next time as this one's a bit too see through for my liking.
I'm very pleased with the end result, you can definitely expect more knitted toys around these parts.
I just hope Tadpole loves this little monster as much as I do!!