I did finish my Mojo's before casting on for this month's Mock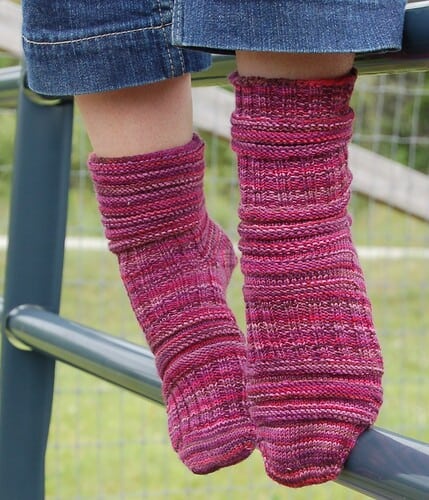 *They are the same height, I just had one foot up higher than the other in this picture.*
Pattern :Mojo Socks by Donyale Grant
Yarn: Claudia's Handpainted in Plumilicious
Needles: U.S. #2 DPN's
It was crazy how fast the second sock flew off the needles after such an intense Cookie A pattern. All those rows of  knits and purls were just what I needed.
Talk about a hard pair of socks to photograph, if the light wasn't distorting the colours then the pattern was getting lost in the colourway. These socks are a definite must see in person as the pictures just don't do them justice.
 This pattern incorporated my first toe ups and my first after thought heel.  I love the fit of these socks! I always seem to have trouble making the toe long enough but not too long with top downs. I've been seen ripping back and reknitting a toe several times before getting the perfect fit. I didn't have that problem with these and the fit throughout the foot is perrfect! Maybe toe ups are for me! I have several toe up patterns lined up so only time will tell.
I had a little help obtaining the pictures for this post from a little Garden Fairy…… ummm maybe a Garden Gnome… yes a very LOUD Garden Gnome! Her squeals can be heard echoing around The Ridge on a daily basis!