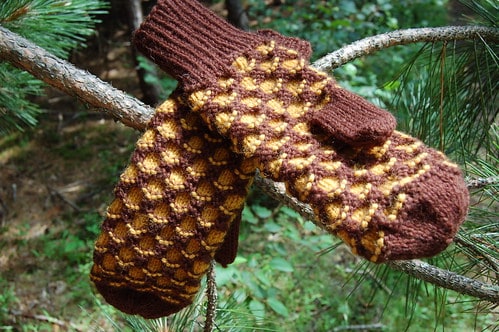 Pattern:Newfoundland Mitts
Yarn: Patons Classic Merino in Mustard and Chestnut
Needles: 3.75mm dpns
Start Date: July 29th 2009
Finish Date: July 31st 2009
My friend S asked for my help knitting the Newfoundland Mittens Pattern. I was all for it except I'd never actually knit them before and the only way I can adaquately teach someone how to knit a  pattern is to knit it myself, so……… Mitten's in July it is.
These mittens were a delight to knit. Had a known how easy they were I would have knit them years ago. They are a basic knit, purl and slip stitch pattern that makes them fun and addictive to knit.
Knitting mittens seemed to do wonders for our weather so maybe I should start a snowsuit next…….