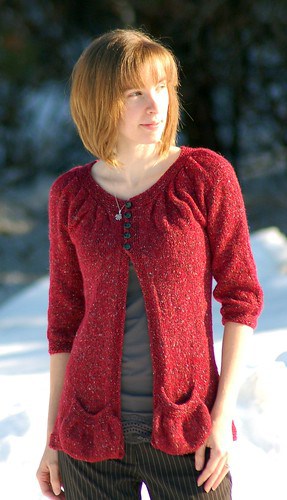 Pattern:Manu by Kate Davies
Yarn: Rowan Felted Tweed
Needles: 4mm circs
My last FO of 2010 and I LOVE it!
I started this in March when the pattern first became available. I knit through the body fairly quickly and then procrastinated knitting the sleeves for oh 6 months or so. I think if I had realized the detail that this pattern entails and how fun it would have been to keep on knitting I never would have stopped.
This pattern is chocked full of amazing techniques that give your cardigan that polished look.
~Short rows without wraps for the yoke, these were so fun to knit, I was soo excited when I finished the resolve row it looked awesome.
~The pleats were also fun to knit keeping my interest while nearing the end. I chose to mirror the pleats on either side instead of knitting them all in the same direction.
~Pockets! These are such a cute addition. I chose to follow Rachel's post on Seamless Pockets. This was a really easy technique and anything that avoids seaming is a win in my book. I'll be using this technique again!
~Cast on's and Cast off's – These were all done with applied i-cord and really finish off the cardigan perfectly. The button bands were actually i-cord too.
As usual I had a hard time choosing buttons for this. All the pretty wooden ones I had recently bought were just too clunky for my pretty Manu. I went through my button stash and came across these black leather like ones. They were definitely the right size but I couldn't decide if they were right for the cardi or not. Manu sat for days with these little buttons perched on top undecided. Every time I'd walk by I'd have another look but I just couldn't make a decision.  My mama came to the rescue when I asked her what she thought and they were finally sewn on.
If you can't already tell I loved knitting every part of this cardigan. I'm usually all about the finished piece but this cardigan was definitely all about the process and the new techniques that I learned. I'll be choosing patterns that push me to learn and grow from now on.
It's going to be an exciting sweater year in 2011!