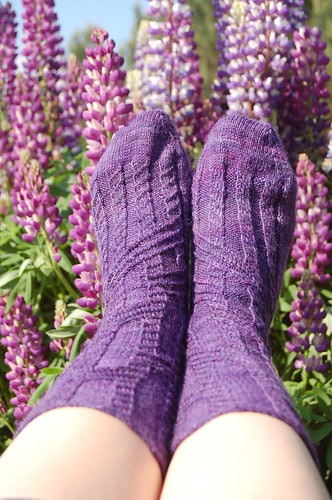 Pattern:Cookie A mystery socks from SKA group on Rav
Yarn: A piece of Vermont in the Jam colourway
Needles: U.S. 2 DPN`s
After so many comments about how well they matched my Lupin`s it would only be fitting to have the finished pics… with the Lupin`s of course
This was my first CookieA pattern and won`t be my last. Even though this was the most intricate sock pattern I`ve ever knit, I enjoyed the challenge and even learned to cable without a needle!

I`m sad A Piece of Vermont is no longer producing yarn. This colourway is AWESOME, I can only imagine what the rest would have been like. I might even have to a  little nosey on Rav and see if I can`t find any more in someone`s stash.
 Finishing these on time was a feat in itself, its amazing what one can do when you work on a sole project There are TONS of socks I`m itching to cast on but I`m going to make myself finish my second Mojobefore attempting anymore. Ohhh and there are sweaters to talk about too. So many patterns so little time!
What patterns are you drooling over?