What better to way to forget about the stresses of moving for a while?
A test knit of course!
*Note: Planning an outfit for said photoshoot kind of slipped my mind when I packed 99.9% of my clothes in boxes…… Also packing the iron that I NEVER use was not in my best interest because of course I ended up needing it…* Needless to say I think I did well with what I had 😉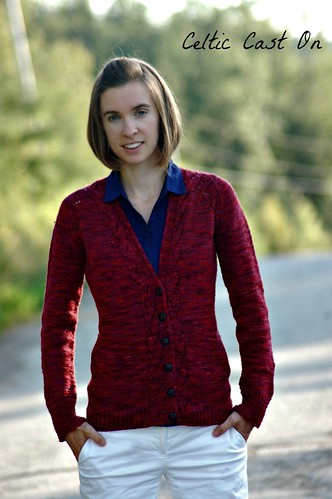 It has been a while since I've test knit anything and I have been enjoying the free time to knit as I choose but once Tanis comes a calling it doesn't take much to twist my arm. Her designs are always right up my alley and this design was no exception. In fact Lady Sunnyside is my favourite Tanis pattern that I have knit to date!
A button down cardigan is something I will wear forever and a day or at least until I wear holes in it. I feel like there may be another sunnyside in my future, its too perfect of a design NOT to have two!
Pattern:Lady Sunnyside by Tanis Lavallee
Yarn:Tanis Fiber Arts Green Label Aran weight in Garnet
 I alternated skeins every two rows.
Mods:   I added one extra buttonhole to accommodate my long torso.  I also added length to the sleeves cause I'm gangly like that.
I knit a 34 this time around, I'll talk more about this in a future post but I have been finding 32's are too tight across my broad shoulders and I just need things to be less fitted and more relaxed.
 NOTE: I used every bit of 5 skeins to knit my modified version.
The great thing about this pattern, as is with the original Sunnyside, is that it comes with two chart options for the raglan and neck/button bands. A zigzag lace chart, which is what I chose, and a rope cable chart which gives it a different look altogether. Choose your poison or knit one of each!
Lady Sunnyside is the adult version of Sunnyside that has 1890 projects on Ravelry! It is a go to baby pattern for so many and I anticipate I'll be knitting one very shortly with all the babies popping up around me lately.
Now here is the fun part! Tanis is offering this pattern for free for one week only and there's talk of a  Lady Sunnyside knit along in the TFA group on Ravelry.
Sooo skip on over to Tanis blog, get yourself that free code and start planning a Sunnyside for your first cardigan of the season!