As I mentioned before I test knit Oiyi`s beautiful pattern Kouyou.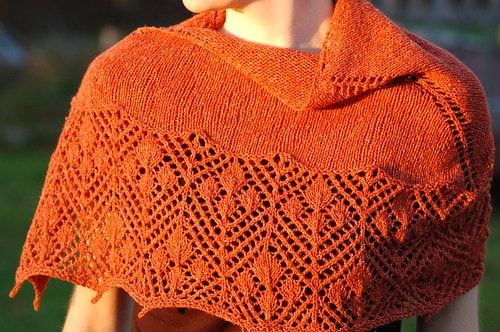 Pattern:Kouyou by Angela Tong
Yarn: Elsbeth Lavold Silky Wool
Needles: 4.25mm circs
I used a liittle over 2 skeins of Elspeth Lavold Silky Wool to make the sport weight version of this shawl. I wasn`t sure if this yarn would provide the warmth needed to wear as a scarf but I was pleasantly surprised by how cosy it is. I`ve already worn it out several times, even on top of a sweater it makes a nice statement.
I love how quickly this knit up. The lace portion added just enough interest to keep me wanting to see one more leaf emerge. There are also instructions and pictures on how to block your shawl, this was such a great idea. I`ve seen one to many beautiful shawls ruined by bad blocking. Oiyi shows how to block and accentuate the natural curve on the garter portion. I just love how that section looks.

There would be plenty of time to whip up on of these for someone special this holiday!