*Thank you to all who entered into the Journey giveaway. I enjoyed reading all of your journey memories! The winner is Amy J. Can you please email or contact me on Rav. The email I sent bounced right back.*
While you were all writing about your journey's my little family was travelling across the U.S.A. to San Diego for a much needed break. On the way I was able to hand deliver a special gift to someone I met at Knit East
I arrived at the Portland Knitting Group's get together rather frazzled. I only had written directions with me and managed to get myself lost in the dark by myself….. I only stayed long enough to give Lucia her gift and get directions on how to get back to my hotel from the lovely Portland ladies. Let it be known I got lost again on the way home… the next day we bought a GPS!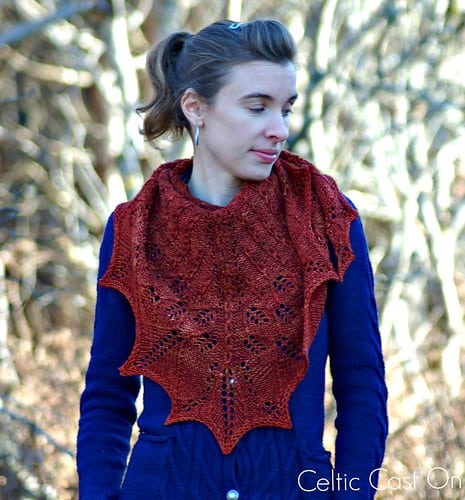 Pattern:His Golden Lair by Kourtney Robinson
Yarn:Madelinetosh DK Twist in Saffron
Needles: 5mm
Lucia, for reasons I won't get into, deserved a fabulous knit shawl. I asked her to choose a couple of patterns that she liked that I could choose from and to tell me her favourite colours. Out of the three that she chose His Golden Lair stood out to me right away. It is a pattern I had been eyeing for quite some time but hadn't had the chance to knit yet.
 With the pattern down I only had a yarn and colour to choose…. usually the most difficult part of the process for me. When she told me she liked Fall colours a burnt orange came to mind, I toyed with the idea of red but I just couldn't get the burnt orange out of my head. Now I only had to track down a yarn in the right weight and brand that I wanted. That proved to be a little more difficult but in the end I found just what I was looking for.
 This was my first time working with Madelinetosh DK Twist and won't be my last. The base is nice and springy and provides wonderful stitch definition it make those cables pop.
I ended up knitting this shawl twice! The first time I started out with the suggested 4.5mm needles. I thought the cable portion was coming out very small but continued on because it looked to be only about 1/3 of the pattern. By the time I got to the last few lace rows I knew there was no way it was going to block out to the size I was hoping for so I ripped and reknit on 5mm's. The second time was a charm and blocked out a couple of inches larger than called for in the design, perfect!
Hopefully through all the kerfuffle on getting it there it was still well received. Next time I will be more prepared with my gps and maybe be able to stay a while and knit.
I think I may just have enough left over to make myself a hat but I have a few things to finish before I cast on.