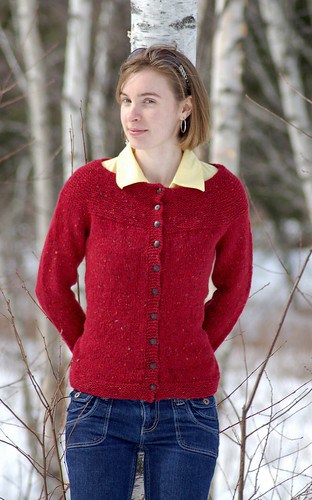 Pattern:Garter Yoke Cardigan by Melissa LaBarre
Yarn: Tahki Donegal Tweed
Needles: U.S. 7's
Start Date: January 26th 2009
Finish Date: March 7th 2009
This poor cardi has suffered a lot since its cast on date.
Trying to capture my attention while startitis had a hold on me, suffering a complete loss of my knitting mojo, not to mention troubles finding the perfect buttons.
 It did eventually all come together in its own time and I'm quite pleased with how it turned out!
I love the simplicity of this cardigan!
The garter yoke and trim really makes the pattern come alive and adds interest to an everyday cardi.
I made a few modifications to this cardi that were all about length. I lengthed the sleeves and added a few more rows of garter to the cuffs. I lengthed the stockenette that came right after the yoke as I found it still too short compared to where it should have ended and I also added a few inches of length to the body of the cardi matching the garter trim with the cuffs.
I can't imagine what the end result would have been had I not been able to try it on as I went. My noodle like body needs all the length it can get in order to have a comfy and wearable sweater.
I also love the colour of this yarn. Red always surprises me, I'm not too fond of it in the skein but when I see it on it totally pops. For some reason I avoid red clothes, I have no idea why its just not something I gravitate towards. Show me a green shirt and the red gets left in my dust but I must admit to my mum being right.
She always told me I looked good in red. Maybe it takes the attention away from my pastey white skin who knows but I'm starting to agree with her and will give some thought to adding more red into my wardrobe.