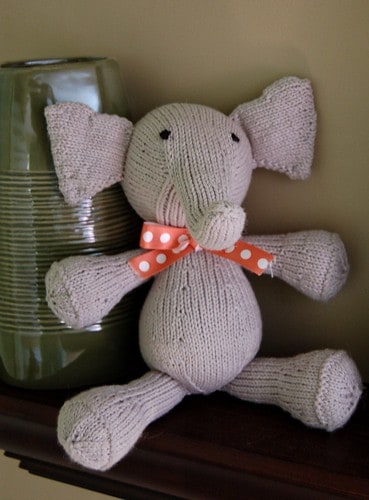 Pattern: Elijah by Ysolda Teague
Yarn: Lion Brand Cotton Ease in Stone
Needles: 3.25mm's
Start Date: May 30th 2009
Finish Date: September 13th 2009
I started Elijah during my fourth month of pregnancy when the knitting mojo was barely in existence. I completed the head and then lost all mojo and patience for a good couple of months. I picked him up again in August determined to get some WIP's finished up before Tadpole decides to arrive.
Technically this is my first knit toy as I started it long before Tad's Monsta. I just love Ysolda's pattern's they are so clear and easy to follow, Elijah was no exception. This little guy is made by first knitting and stuffing the head, then you proceed to pick up stitches in different area's and knitting the different body parts. Everything is stuffed as you go and ends are simply pushed inside Elijah so there's no seaming, how great is that???
 This being my first knit toy and also the first using one of Ysolda's toy patterns I was a little uncertain of how the stuffing and knitting as you go worked. I ended up overstuffing the head so he doesn't look exactly like Elijah should but I don't think Tadpole will mind. He's still looks like an Elephant and Moose says "He's our Elijah, there's nothing wrong with him!" He's quite excited about this little guy and predicts I'll be making several Elijah's over the years as replacements….
He's the perfect size for a baby too so I'm sure he'll be getting some love from the get go.