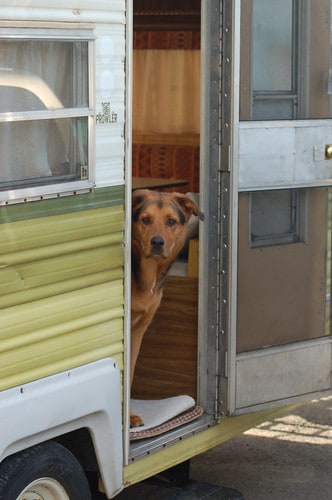 Hey everyone its me Boss!
Last month mum and dad picked up this wicked trailer to go camping in and I think its totally awesome!
In fact I think its sooo great that I try my best to keep Moolee out of it….. *she's the boss though so it doesn't always work out in my favour.*
So this is our camper, a 1970 Prowler!!
We took it out for our second trip *mum will tell you about the 1st trip some other time* last weekend and it was so much fun.
We headed out on a short hike to Fall Brook Falls, home to the province's largest waterfall.
It was a slippery trek getting to the Falls with all those beautiful leaves on the path,
but I led the way and of course had no problems.
The pictures don't seem like much but….
when Uncle Neill got up close you could really see how huge it was!
I of course had to go inspect it myself!
I let T tag along too.
I was glad Dad's Aunt and Uncle could come with us.
They are pretty cool and I like hanging out with them.
I went for a nice dip after all that hiking…
Molly the garden gnome of course stayed with Dad!
Such a beautiful part of the province that I can't wait to sniff  I mean discover more.
More camping adventure's coming up…