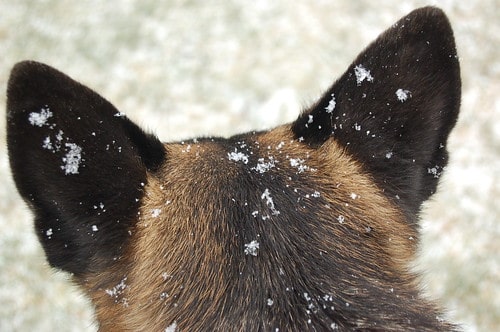 Molly wanted to let you all know its SNOWING!!!!
To those of you that have been griping about NOT having snow *cough cough* MONIKA! You are welcome to come play in my yard.
It started to snow this morning on our walk round the loop and it's still coming down. The forecast shows rain for this afternoon but I'm hoping that it will continue to snow for us where we are so high up.
The ground is starting to freeze making these big ice heaves we like to call ice crystals. The dogs love to eat them.
Yesterday I made 90 Oreo balls and 2 dozen chocolate rice krispie treats to sell to raise money for a friend who just found out they have eye cancer. Moose took them to work with him and I told him not to bring ANY home!
Here's the recipe just in case you want to make some, they are delic!
        Ingredients:
1 pack of Oreo cookies
1 block of soft cream cheese
 candy melts or baking chocolate
some parowax to thin out the chocolate and give them a nice shine
Grind the entire package of Oreo's up in a blender or food processor. Our blender broke a while back so I used the old-fashioned throw them in a Ziploc bag and beat the tar out of them with a hammer. Worked well
Melt chocolate in a double broiler or small slow cooker pot add parowax as needed.
Pour in a bowl and add cream cheese mixing it in with your hands until you get a dough like consistency.
Roll into small balls and place on a baking sheet covered with wax paper.
Place them in the freezer for approx 20 minutes until they are hard.
Pick up each ball with a toothpick and dip them in the chocolate, you'll probably have to use a spoon if it's a bit thick.
Place in the freezer again to harden the chocolate and Volia!
A dozen of these in a cookie tin would make a perfect gift.