Joining Ginny over at Small Things for Yarn Along.
"~ Two of my favorite things are knitting and reading, and the evidence of this often shows up in my photographs. I love seeing what other people are knitting and reading as well. So, what are you knitting or crocheting right now? What are you reading? … ~"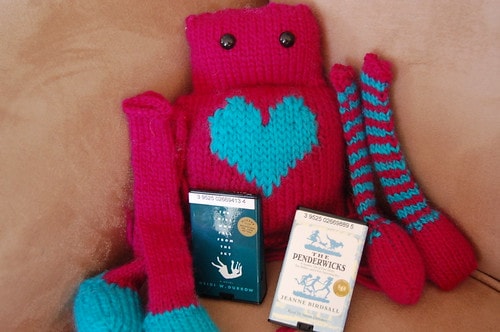 I`m trying to finish up Lou Lou but she is fighting me all the way. I can`t seem to get her arms and legs to sit right. Hopefully I will conquer her this week.
I picked up a few audio books at the library last week and am enjoying them immensely. The first one was The girl who fell from the sky . While the first part seemed to drag on the middle and the ending was alright. The story is about a girl living and dealing with a family tragedy. Its one of those books that goes back and forth from one characters perspective to the next. I`m finding it rather hard to sum this book up but I didn`t really find it *moving and inspiring* like some people thought. I did love the narration of Rachel though.
The second was The Penderwicks this was a lovely book about a quirky family of four girls and the summer they spend at a cottage on the ground of a posh mansion.  These girls drew me in immediately, unforgettable personalities, *Skye was class*, the sister`s secret MOOPs and the adventures they went on. I`ll be making a mental note to remember this title to read to T when she`s older. I must also note that the narration on this book was great!
The books are on PlayAlong`s, little mp3 type boxes with play, ffwd, rwd, volume and pause buttons on the back. All you need is a battery and headphones and you`re set. I wasn`t so sure about it when I first picked them up at the library but they really are great. So compact and no need to change out cd`s. I wish all audio books were on them.
Now I think another trip to the library is in order, I`m out of audio books.