~ Two of my favorite things are knitting and reading, and the evidence of this often shows up in my photographs. I love seeing what other people are knitting and reading as well. So, what are you knitting or crocheting right now? What are you reading? Take a photo and share it either on your blog or on Flickr.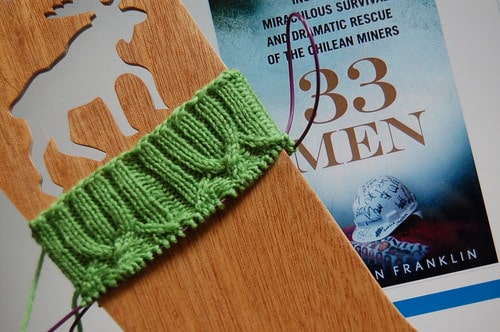 Knitting – I couldn't resist joining in on the Solid Socks mystery KAL for August. The designer is Jeannie Cartmel!! Remember my Taglioni's and my almost completed Complicated socks?  They were both test knits for Jeannie, I adore all her patterns so this one was a no brainer. I'm using some stashed Knit Picks Stroll in Peapod for this one. The stash is getting kinda thin in the solids area but I must knit more from my stash before I buy any more. I am after all in 12 in 2011 and might only have TWO of those 12 pairs finished *ahem* BUT I do have 3 pairs so close to being finished and once this pair is done I'll be halfway there. I think I hear my sock mojo calling.
Reading– Another audio book this week. I chose 33 Men by Johnathan Franklin, the story of the survival and rescue of the Chilean Miners. Its a very interesting read so far. I had no idea they had so much room down there and access to quite a bit of equipment. I'm liking it so far.