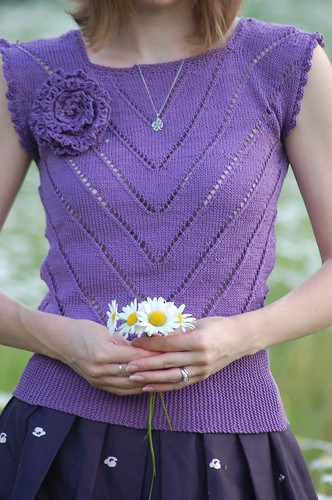 Pattern: Xia by Kessa Tay Anlin
Yarn: 5 skeins of  Elann Lara in Antique Plum
I have adored this design from the moment I set eyes on it. Kessa designed this modern top with a vintage feel and it could not be more perfect.
Knit in one piece from the bottom up Xia was a quick yet interesting knit. The yo pattern is ever changing and keeps you on your toes while you motor on.
This was my first time using Elann Lara and I was pleasantly surprised at how nice it was to work with. It was a bit splitty but isn't that to be expected with cotton yarn. It blocked out beautifully. I will definitely be using this yarn again and am now interested in trying some of Elann's other house yarns. The prices just can't be beat. The best part is Elann is Canadian and I only have to wait roughly a week to get my yarn instead of 2 when I order from the States, bonus!
The pulled in waist and loose body was just the type of top I've be looking for. I find that in stores this type of top is very loose and flappy on me but Kessa did a fabulous job of keeping it fitting while still being true to the loose style.
The v pattern is mirrored on the front and back set off by an adorable crochet trim around the arms and neck. That little bit of crochet really pulls everything together and makes a more polished garment.
I also test knit Kessa'sHuaLeipattern for the crocheted flower. It was my first time doing crochet in the round and took a while for me to really get my head around. My next attempt will be much better but it didn't turn out too bad. Its wearable at least
I am so pleased with how this turned out and cannot wait to get some wear out of it.
A perfect summer top that freakishly just happened to perfectly match a skirt I got while I was away! SCORE!