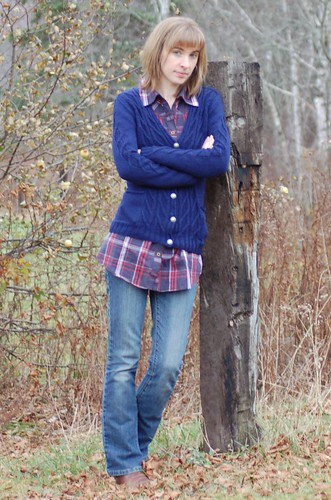 I recently had the chance to test knit the Woodburne Cardigan, Carol Feller's newest pattern for her KAL
As always I knew right away that I wanted to add Woodburne to my wardrobe and testing was the icing on the cake.
It is knit bottom up with a round yoke and a modified saddle shoulder construction. I had yet to knit saddle shoulders so this was a first for me.
I knit this with Di. Ve Zenith that I've had in my stash for a couple of years. I could never find the right pattern for this yarn because it has a bit of stretch to it. It was splitty to knit with but has wonderful stitch definition that really makes the cables pop.
I added a bit of length when knitting Woodburne but because I knew it was going to stretch out a bit when blocked I left about 2 inches for growth.
The cables on this one are so interesting and different and as a friend put it almost Art Deco-ish. It really lends a modern look to the cardigan.
One of my favourite things about Carol's designs is that they are always different in the way they are constructed. Woodburne's waist decreases are at the middle of the back between the cables instead of at the sides where you would traditionally find them. I love how it makes the cables look like they are pulled in at the back creating a nice waist.
The cables travel up the sleeves and right over the shoulders with the saddle construction.  The shoulders were easy to knit through once I got my head around what I needed to be doing.
It's easy to get into ruts with your knitting.  We all usually have one construction style that we prefer and tend to knit it over and over again but I always like to challenge myself, learn something new. I always know I will most likely be knitting out of the box when working with Carol!
I couldn't be happier with this knit. I knit the 30.5 size with a little bit of a different gauge to achieve a 33 bust. I'm seriously thinking of knitting 33″ busts from now on because they create that little bit of room and are just so darn comfy!
Although the KAL is almost over you can still purchase Woodburne and knit it at your own speed. I would definitely recommend it. This is one of my favourite cardigan's to date.