Just in case you all think that we are frolicking around on bare grass with no snow in sight, think again!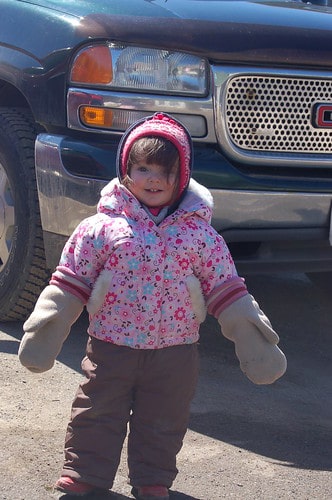 We suited T up, the wind was frigid, for a little trek on the 4 wheeler. She hates to wear her mittens, too restrictive maybe, so we pulled on a pair of mine which she enjoyed wearing.
We headed up a  logging road that was cut a few years ago right across from our house. The snow was iced over so it was smooth sailing as we drove along.
Boss was in heaven tracking lots of new smells and peeing on every tree he could find
while Molly likes to guard the family bring up the rear.
We stopped for a few pics but that T she likes to BRRRM BRRRM! so we kept on truckin.
Bright, it was very very bright out!
One last romp before we headed back to the house.
You can see our garage on the left if you look closely.
Thankfully we took T for several trips during the weekend because the snow is soft again. We won't be able to go there again until the snow is gone.