I'm glad to say it "SEEMS" to be warming up here. It was 7 degrees celsius today WHOOPEY!!!! It actually seemed like it MIGHT have been a spring day. Hopefully it will melt all that snow and that will be it for the year…….. wishful thinking me thinks!
Yesterday I showed you all the gift Sock got from Laura but that wasn't the only thing in the package. You see last year around this time I won a little contest over at the bunny hutch as the 1000 commenter. As you can imagine things for Laura at that time were more than hectic two babies to look after, 3 kids visiting, dyeing yarn, court etc that the package didn't get sent. Of course I wasn't bothered "Don't worry about it, whenever you get a chance is fine I'm in no rush." Time wore on a things got more crazy for Laura, 3 kids coming to join the family in Kansas meaning a totally of 7 people in the house YIKES!!! I don't want to even begin to image trying to run that household, but she does like its a breeze! Laura's birthday passed in November and now MY package to HER was lying around not getting posted heheh Finally last month I said OK THIS PACKAGE IS GETTING SENT. I sent it, without letting her know as I wanted it to be a surprise. But nooo it couldn't be THAT easy, the payback for not sending it for her birthday was that it was seemingly lost according to the canada post website, saying that it was still sitting only an hour and a half away 17 days later. I began a claim on the package fearing for the worst, thinking that the things I had picked especially for her would never reach her at all. I then HAD to let Laura know that the package was possibly missing but to keep an eye out incase it came. THANKFULLY last week Laura recieved her package all in one piece! My package was sitting on her table when hers arrived and instead of ripping that puppy open and enjoying the goods she got MY box ready, went to the post office and only after mine was SENT did she open hers. lol The patiece of a saint that girl has!!! I would have been into it the moment it arrived. Needless to say the moment I got home and saw the package I grabbed it, ran upstairs to where Moose was and ripped it open.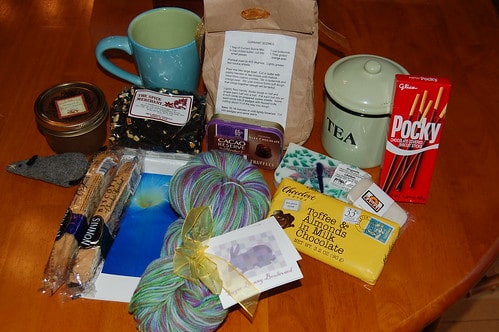 That package was filled to the brim with a crazy amount of goodies. For me there was the Kelly colourway she dyed especially for me *gleams*, my very own tea mug *this is very good as all our mugs are the same and I didn't have a SPECIAL mug before*, a cute tea cannister in a lovely light green colour *perfect for my flavoured teas*,a package of Laura's currant scone mix complete with recipe on the bag *squeals I love SCONES!!!! pronounced like gone, right Laura *, Pocky a kind of chocolate covered biscuit I've never had before *will go great with a cup of tea*, a toffee and almond in MILK chocolate bar *how did she know I only like MILK chocolate *, Two hazelnut Biscotti's *I have never had biscotti before*, a little tin of chocolate truffles, a pack of spiced orange tea *just need to find my diffuser*, a bar of soap made out of an actual sunflower, a bar of soap with a dragonfly on it made of flowers and things, a beautifully written card and a present for Moose and Sock. I can't believe the amount of things in the box and all was picked especially with me in mind Before blogging if someone would have told me they had such good friends via the net I would have laughed and said uh huh but really it is soo true, I've met….. well not met YET sooo many wonderful people through blogging I'm thankful for the great friendships I have formed like the one I have with Laura.
Here's a little close up of the Kelly Colourway. Pictures really don't do it justice, its sooo stinkin yummy! I can't wait to finish a project and then cast on with it. Moose got his own pressie from Laura too. It was sooo nice of her to have remembered him See how beautifully everything was wrapped?? Name tags, my favourite coloured ribbon and all! Moose got his very own jar of Laura's ginger pear jam that she made from pears she and Emeline picked from a neighbours tree. I'll give you a report once he tastes it.
We all know Sock likes boxes but an empty box with a cat nip mouse thrown in is extra special!! She had fun attacking her mouse in the confinements of the box.
*Ok Mum ship me off to Kansas!! I'm coming for catniiiiiip!!!!!*
Just a little update on my co-worker while i'm here. I went to visit her the other night, she is at home now and raring to go! She wants to be back at work *crazy girl* but is still waiting to here on a date for her radiation. I finished the shawl and gave it to her that night. She cried and loved it! She kept it on while we were there so I hope it brings her much comfort. Here's a quick snap shot of it before I wrapped it up. You can't see the yarn overs in it but its quite holey yet still thick and warm.
Other knitting has been accomplished too but it will have to wait until tomorrow. I started 5am shifts yesterday and my eyes are going together right now, its 8:30pm….. almost bed time.