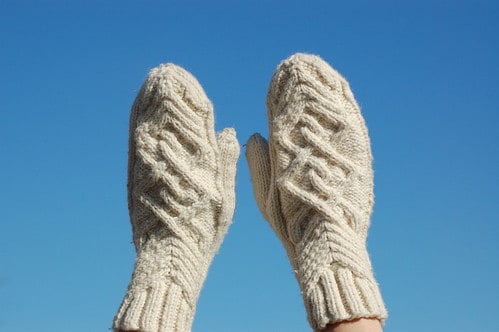 Pattern : Chevalier Mittens
                Start Date: January 1st 2008
                Finish Date: February 11th 2008
                Yarn: almost 200g of Cascade 220  * Two different dyelots, one for each mitt as I ran out. Thanks to Pat I was able to finish*
                Needles : 3.75mm DPN's
 I did the shorter version of these mittens, which is minus two green sections on the pattern. Good thing because they are a TAD long as is but they are wearable. Love how they turned out and i've got tons of comments on them already. The first night I had them on , after finishing a few hours earlier, we are paying at the counter of Canadian Tire. The young girl at the counter says WOW I love your mittens!!!
me: Thanks!
Moose: *pipes in and says* You like those?? I made them for her!
young girl: YOU DID???? YOU MADE THOSE????
me: LOL no he didn't, I did.
young girl: YOU DID???? Well my names ______ and next time you come in here you can make me some.
me: *smiles*
SUUUUURRRRE hunny I'll just go home and whip you up a pair right now!! Hey at least she liked them
                I have all the pieces of the duffle coat finished I just need to sew it all up. I probably would have had that done today but you see I had a knitting emergency.
MY MOOSE NEEDS SLIPPERS!! Thats right folks his poor ole donkey slippers have holes right through the feet and he's been whinning that he needs new slippers. The thought occured that I could knit him a pair of felted clogs….. that was pushed out fast as I knew he'd never wear them. The whinning insued and finally I said
me:  I could knit you a pair of felted clogs?
Moose: what are those??
me: I'll get the pattern and show you. *off I run to get the pattern* I show him the pattern and he says
Moose: ok
me: *astonished* You'll really wear them???
Moose: Yup
me: *excited now* OK what colour do you want them?
Moose: whatever you've got, they're just slippers
TYPICAL MAN!!! But hey i'm knitting my moose slippers *beams* that he's gonna wear!!!
I started last night during Corrie and finished the second one up this afternoon
I didn't know if I was going to have enough yarn in the stash to do these but I thought if I did mustard soles and cuff's then I should hopefully cross my fingers and have enough left for the body of them. I guess I was a little excited about knitting something for Moose that I cast on with the body colour and didn't realize until I was at the cuff…… yes yes ok I was over excited. Today when I cast of the clog two I debated on whether to make number 2 the proper way with the mustard bottom and have them not look like a pair or try the same way as the first and hope there's enough. Well I went with HOPE and I was 6 stinking rows short of brown. 6 STINKING ROWS!!!! DANG that burns my butt. Moose, well he couldn't have cared less and said just use what you got, they're only slippers. ARGGGGG I know they are only slippers but I want them to look the SAME!!! I had no choice but to fill the 6 rows in with mustard, its not that bad really but its still annoying. Tomorrow I will felt them once the Moose is up so I can get them to the perfect fit. Fingers crossed!