I'm working on posts about Ireland I really am but I just haven't had the time to sit down and really think about them so you'll have to wait a little longer.
In the meantime I hope to be starting a new knit today so I thought I'd share.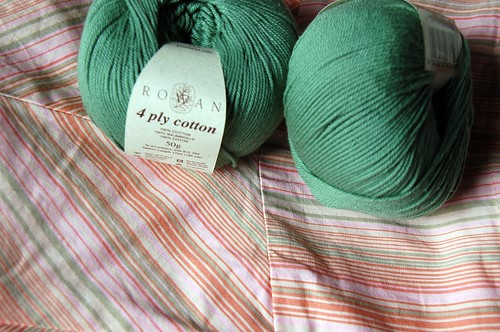 I'll be using this Rowan 4 ply cotton and knitting Blithe by Kim Hargreaves. I'm hoping to end up with a top that will go nicely with the skirt you can sort of see underneath the yarn. I have several nice skirts in my wardrobe with absolutely nothing to wear with them so I"m hoping to rectify that by knitting a few summer tops. I have another knit idea for this skirt as well but we'll start with this one and see how I go.
The colour you see on my toes is my favourite colour right now. A Jadey green I'd say.  I don't see it that often so when I spied a bottle of polish in MY colour I had to grab it. I'm usually a plan jane  red toes kind of girl so this is a nice change for the summer. It also means I get to see that awesome colour at any point during the day
Hope you are all having a good weekend!