As 2008 is coming to an end I've been thinking about new knits old knits, knits that are still in limbo…. did I say knits that are still in limbo yet??? I have 4 projects that are still on the needles and need to be done and done now!!!! Every time I go on ravelry they are all sitting at the top of my projects page glaring at me, some are from 2007! Yikes! The time has come to completely wipe out the WIPS and start with a clean slate for the new year. Sooo lets have a look at the offenders shall we??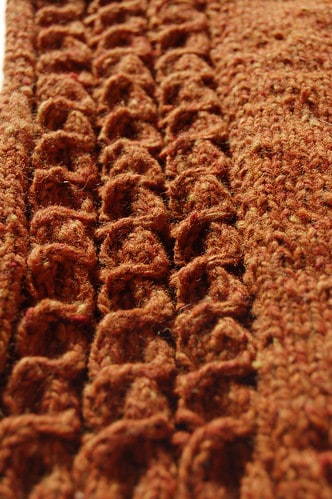 First up is Penny, this is a recently new cast on and my constant WIP at this time. I'm knitting this with Classic Elite Skye Tweed that I've had in my stash for a few years now.  I only have the back and collar left to go and I'm crossing my fingers that I have enough yarn.
Second is Winder, I loved this skirt from the moment I saw it on Knitty. Can't say that this has been the most exciting knit though.  I'm using Patons classic merino, 3 panels have been knit, there are 8 in total…  its been a slow process on 3.25mm needles and is currently waiting in the WIP basket to be added to.
Number 3 is the mate to my New Years Sock. The pattern is On the Run by Anni Design, this was when I still happened to be involved in the Sockamania monthly KAL.  I starting knitting the first sock in January of this year, 11 months later sock two is still no were to be seen. This pair needs to be put to rest asap.
Lastly, and it IS last on purpose is my Cable Blanket. I'm almost embarrassed about this one. I started it in September of 2007 folks!!!! The pattern for the blanket is for 4 panels. Many people thought the finished blanket was too small at 4 panels so I bought enough yarn to do 6 panels I believe. I have 3 panels done now, waiting to be sewn up with 3 more to knit. I get bored very quickly with this one, hence the reason it is not finished. I'm also unsure of the best method to sew this up. I'm not really a fan of whip stitch but I'm not sure there is another way to do it. The sides of each panel are one row of knit one row of purl. Any suggestions???
So there you have it 4 projects I'd like to have done by December 31st so I can cast on a new knit for the new year. Realistically I'm not sure I can get them all done, especially Winder so I've made myself a deal. If I can get all projects save Winder done in the time alotted then I can cast on for a new knit BUT if I by some miracle get all three done and still have time to spare I must continue on with Winder. I would love to have all 4 done and have a clean slate to work with but we shall see. Do you have any plans for your WIPS????