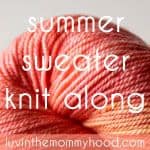 It's time for the Luvinthemommyhood's Summer Sweater KAL
Start date is today June 27th
End date September 30th
That's plenty of time to make a sweater…or two…or three.
My first sweater will be a stripey little number perfect for chilly Summer evenings.
 I dug some cotton ease out my stash in Stone *the grey* and added a lovely coral colour called Terracotta to it.
I think this will be the perfect colour combo for a Shellseeker
Image:Shellseeker by Heidi Kirrmaier
My only fear is that this may look potato sackish on me….
I'll have a better idea once I get started but I will definitely be knitting the smallest size.
Image: Shellseeker by Heidi Kirrmaier
Want to join in on the fun? Head on over to Luvinthemommyhood and sign up, there are some great prizes to be had!