We had friends stay with us this past week from Arizona. I found out a week before they arrived and thought oh I should whip her up a cowl because she is probably going to freeze.
The days ticked by and I still had yet to cast on….. Oh I'll just crank it out on the weekend I thought…….. apparently I WASN'T thinking straight that week because the cowl I knit definitely took longer than 2 days to knit.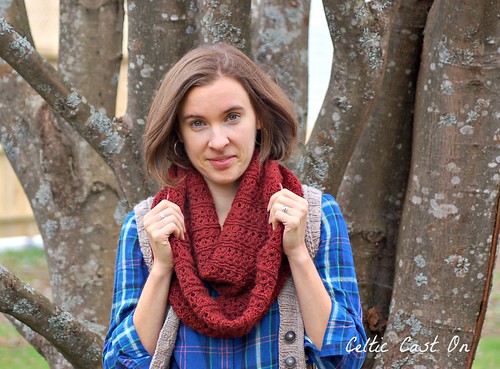 Pattern:Stockholm Scarf by KnittedblissJC
Yarn: Berroco Vintage Dk in colour 2181
Needles: 6mm circs
Mods: I knit this in the round casting on 252 sts.
The Stockholm scarf although fun to knit was definitely NOT a weekend knit with 252 sts per round in a lace and rib pattern. I picked up 2 skeins of Berroco Vintage Dk because I wasn't sure how she would handle the washing aspect and I think I chose right. She has dark hair so the red was a pretty easy decision.
 I, of course, ran out of time to knit the full two skeins, like I had planned, but was able to get a good sized cowl out of the yardage regardless. I think i had about 16 repeats of the 4 row pattern. In the pictures I have it folded in half before wrapping around my neck and it was perfect.
I had it blocking the day they arrived before but it still wasn't dry a couple of days into their stay. I moved the blocking board to my bedroom before they arrived so it would be out of sight until it dried completely.
It was finally dry when I checked it before our trip to Fall Brook Falls. (It's been a couple of years since we have been there.) It was a brisk day for our grand outdoor adventure but lots of fun when bundled in handknits.
 They are off home now but hopefully she will get some use out of it especially next year when they visit again. I'll have to get knitting on some more accessories to keep them warm because the next trip might be a snowy one.