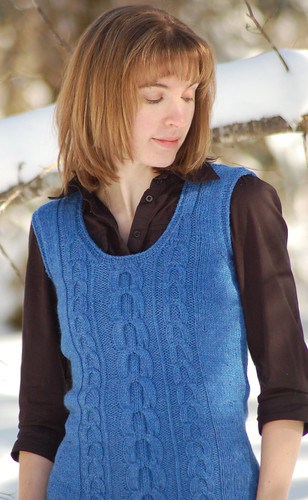 Pattern:Splitstone by Alicia Plummer
Yarn: Cascade 220 in colourway 9456
I finished my test knit for Alicia and I couldn't be happier with this.
I've been hoarding this colour of Cascade for something special. It's such a beautiful blue with a bit of a purple undertone. I assumed it would eventually become something for T but when I saw Alicia's vest I just knew it would have to be a Splitstone for me.
One thing I enjoy so much about Alicia's patterns is that I never have to lengthen ANYTHING. She has the long torso down to a science!
We took these pictures during a snowmobiling trip through the woods. We had a little bonfire on the trail and toasted marshmallows before I striped off the snow pants to get a couple of quick shots.
Splitstone has already been getting lots of wear but I'm HOPING I will be able to put it away for a few months to enjoy some warmer weather….
The snowfall this morning doesn't leave me with much hope though.