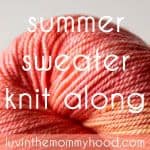 I've been working on my last cardigan for the Luvinthemommyhood KAL.
This is the test knit of the adult version of Citrus that I knit in the summer for T.
I'm using Malabrigo Lace again this time in the colourway Bobby Blue. *It's a little brighter than what is portrayed in the picture above*
It's not quite as solid a colour as T's pink version which is little disappointing but I'm hoping I can handle the slight variegation.
This knit requires a TON of stockinette knitting and for me that mean's I need to listen to an audio book to take my mind off how many rows I have left to go.
I just finished the 2nd book in the Chaos Walking series by Patrick Ness. I liked the 2nd book more than the 1st but then maybe it was just because I sent the entire 1st book trying to figure out what was going on and what it all mean't.
The 3rd book, Monster's of Men is what I am currently listening to and I'm interested to see where Ness takes this one.