So today is officially day one of SOCKTOBERFEST!
I must admit that a few years back before I really got into sock knitting, Socktoberfest was never really my thing. I'd watch people knitting fervently sock after sock hoping to complete multiple pairs before the months end. I didn't really get it, I wasn't drawn in by that small portable project you could cart about with you and work on for a few rows here and there. I guess in order to truly appreciate Socktoberfest you must MASTER the art of sock knitting.
Last year's Socktoberfest brought the first Mystery Sock KAL by Kirsten Kapur of Through The Loops. At that time I could successfully knit socks but I still wasn't in love with sock knitting, the ole Second Sock Syndrome ALWAYS took over. I joined the KAL anyway because I knew incentive to finish before the deadline to be entered in for a prize would be just the push I needed to get through SSS.
Once the KAL was over I went back to knitting single socks and having to drag myself through SSS months after the first one was complete. Something had to change here, I loved the end result of warm wooly socks to keep my tooties warm but the process was just killing me.
Rebecca gave me a heads up last month about the Sock Knitters Anonymous Group on Ravelry's Mystery Sock for September. I'd joined this group about a year ago but the thought of knitting socks EVERY month with me having severe SSS would just about push me away from sock knitting altogether. The mention of a Mystery Sock again peaked my interest but what really pushed me over the edge was when I heard Nancy Bush was going to be designing the pattern. THE Nancy Bush??? From Knitting Vintage Socks??? *SWOON*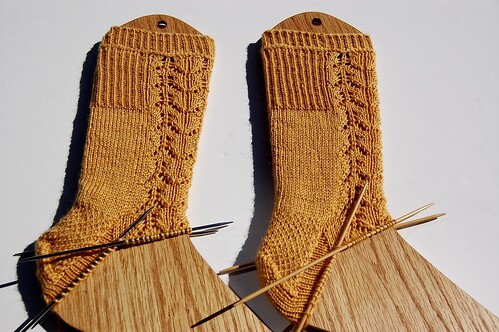 So September 1st I was ready with yellow yarn *this was the challenge for the mystery sock, they had to be knit in yellow yarn to qualify for prizes.* and my U.S. #1 dpn's. I cast on, and followed along on the discussion boards for the group to see how everyone else was doing. I noticed alot of people were knitting both socks on seperate sets of dpns at the same time…. hummm that sure would help with the whole SSS and I wouldn't have to worry about tangled yarn from knitting two socks on two circulars at the same time.  About half way into September Sarah posted about playing Leap Frog with Socks, same concept as those other knitters on the SKA group. I decided  I really needed to give this a go, my sock knitting mojo couldn't get any worse so what did I have to loose.
I had to restart my Bush Mystery socks as the US 1's just weren't cutting it. I moved up to a size 2's of which I just happen to have two sets. It didn't take me long to get into the groove of things, 1 cuff then another, then into leg 1 then the other…… hey I could get used to this.
By the last week of September I had a completed SET of socks!!
Pattern: Nancy Bush Mystery Sock for Sock Knitters Anonymous Group
Yarn: Garn Sisu
Needles: U.S. 2 dpn's
Start Date: September 1st 2009
Finish Date: September 24th 2009
Mods: I used size 2's instead of 1's, I did a twisted rib instead of regular ribbing *love the look of a twisted rib*,  I added an extra repeat on the foot as well as 8 straight rows before decreasing for the toe.
This is the first time I've ever done a Vikkel Braid, a very neat technique, takes some getting used to but looks great between the ribbing and leg. It was also the first time I've used ribbing part way down the leg before switching to stockinette. Top it all off with a dutch heel and a star toe and you have one great pattern! I look forward to using these techniques again in the future.
 I'll be ringing in 2009's Socktoberfest by casting on for this years Mystery Socks from Through The Loops, care to join me??