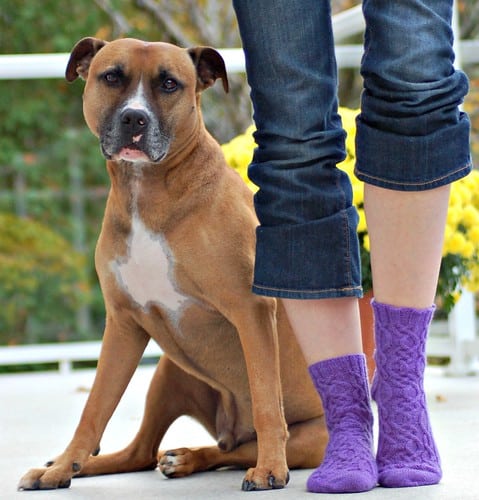 Its Socktober and I have been working on… you guessed it socks.
Before I get into the socks I know you are all looking at the picture above and saying "Socks? What socks? All I see is that adorable face!"
This is Loki. It's true he is adorable, he loves the bones off T. He is my mum and dad's baby. How could I take him out of the picture when he sat down and posed so perfectly?
Soooo back to the socks….
Pattern:Crooked Wheels by Jeannie Cartmel
Yarn: Araucania Ranco Solid colourway 121
Needles: 2.5mm
These were a test knit I did for Jeannie in the summer. I had to complete one sock for the test and the other lingered on a bit as I caught a case of startitis.
They were the only project I took to work on at Knit East so I could just focus and get the second sock finished. My plan worked and only a day or two after Knit East I had cast off.
The yarn has been in my stash for a couple of years. I won it on Siga's Blog and I'm glad I was finally able to knit it up. This was my first time using Araucania Ranco and seeing it in a solid. I really enjoyed working with it and would definitely pick up some more for cabled socks if I come across it.
The pattern is well written and unique as all Jeannie's patterns are. The cables were fun to knit and kept my interest without getting monotonous.
I really love the mix of ribbing and cables on the leg. I find socks with cables all the way around just don't stretch enough and are hard to get on using 2.25mm needles. The ribbing is a perfect solution!
Knit toe up with a heel flap, the only way I will knit toe ups. I'm still not convinced that the toe up heel flap fits as well as the top down flap but they are definitely much better than any short row forms I have tried.
One pair down but I've got more up my sleeve.
There are still a few days left of Socktober….