My TTL mystery socks are well under way.
With clue one complete I'm excited for what clue two will bring. If they are anything like last years socks they will be amazing! There`s still plenty of time to join in, you can find the first clue here at  Kirsten`s. blog.
Monika gave me the heads up that Michaels had Patons Classic Wool in again. After discontinuing the older version Patons Classic Merino Wool they replaced it with the now Patons Classic Wool. It's the only place around here to get it so i'm glad its back in stock with new colours.  While browsing the new selection I came across the cutest pattern booklet.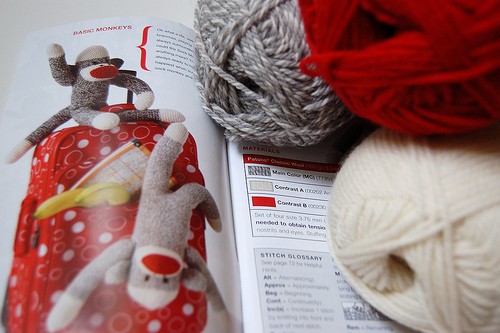 Paton's has a new sock monkey booklet out that is so cute I just couldn't leave it behind. There are knit as well as crochet monkey's, colourful striped monkey's and even some clothes and accessories for them. I picked up two colours to make the basic monkey, add that to the red skein I already have and I'm ready to get knitting.
There may be a sock monkey family in Tadpole's future.