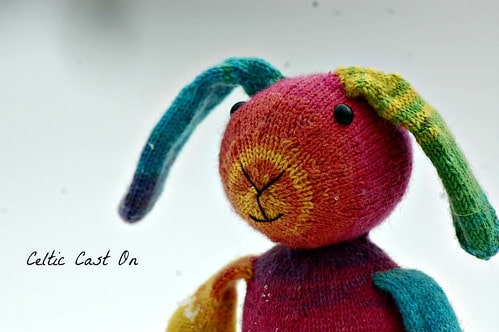 Pattern:Opal Bunny by Susan B Anderson
Yarn: Opal Surprise in the Rainbow colourway *why is that not a surprise?*
Needles: 2.25mm dpns
Mods: No mods but if I were to knit this again I think I would move her legs a bit closer together so she sits better. I would also add the poly pellets suggested in the pattern that T refused to let me add.
I wanted to blog about the making of this little gal, I really did but such is life sometimes.
While visiting my LYS one day T spied Susan's Opal Bunny pattern hanging in front of the Opal Yarn shelves. We didn't buy any yarn or pattern that day but she did ask about it NON STOP once we got home. She worked on her behaviour *first year of school is exhausting for those little minds* and finally earned the yarn for her bunny.
I thought I would be able to whip him up pronto but this mama was exhausted as well and not much knitting time was had. When I did pick it up and knit I kept making the most ridiculous mistakes. The day after I had stayed up late to finish the head *never a good idea for me* I realized I had set aside stitches for 4 ears instead of 2……. DOH!
 I vowed to only work on him when I wasn't exhausted and if that meant NOT knitting for that day *Gasp! Horror* then that was what needed to happen.
I set myself another goal of getting it done by T's birthday but that didn't happen either. So it seems that Snowflake, as T has named her, was finished at just the right time. Our first snow day of the season. I took an hr to relax and finish her off this morning before we went out to the snow.
I think Snowflake fits in perfectly with my Rainbow girl don't you?