Sometimes a knit just sneaks into your finished knits without even so much as a blog post! Its not intentional, the knitting groove takes over and before you know it, its complete. The sad thing is this ones been done for quite a while…..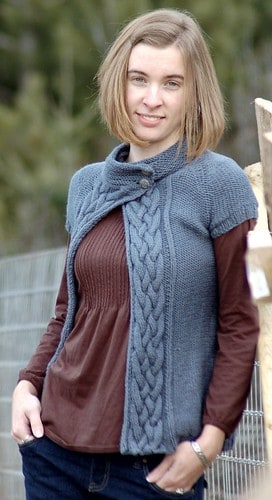 Pattern:Assymetrical Cable Cardi by Yahaira Ferreira
Yarn: Cascade 220 Heathers
Needles: 5.5mm circs
Start Date: August 19th 2008
Finish Date: September 2008 *not sure of the exact date*
Yes its taken me three months to blog about this one but in my defense it wasn't quite complete.
You see Cascade 220 isn't a very sturdy yarn when it comes to stand up collars, I should know I knit my 2830 with it and had problems getting the neck to stand up but I STILL went ahead and cast on for this one with the same yarn…..
Truth is I wasn't really thinking about the collar and if the yarn would stand up the way it was supposed to. What my brain really was saying was "HOLY CRAP!! LOVE THIS SWEATER, NEED TO CAST ON NOW, I HAVE ENOUGH OF THIS YARN!!
So when I was adding the butons to the collar I realized there was no way in heck it was going to stand up on its own, I needed reinforcements!!! Mum suggested I put a few poppers on to help it stay up. Being the sewer that she is, she had lots and sent me home with two in an envelope…. can you see where this is headed???
The envelope made it home alright but where I put it when I came home is a mystery. Mum said she'd bring some next time she came to visit and forgot, it wasn't until last week when we were shopping that I spotted some and grabbed them.
It took quite some time to get the finishing touches on it but it ws worth it in the end.
I wore it on saturday when I met up with the Kniterati's. It was sooo nice to get a compliment from a complete stranger while fixing my tea at Java Moose. She made my morning!!
Have you noticed what i'm leaning on in these pics??
Its a finished fence!!!! The snow did melt away with some help from the rain but it only filled the holes full with water…. arrgggg. We were fortune enough to have three mild days in order to finish it all.  I had to scoop all the water out of each hole with a small tupperware dish before we tried to fill them in. What a mess, the holes were just big masses of mud. We filled them and tamped them down as best we could and are crossing our fingers that its still standing come spring when we will be able to tamp the crap out of them.
This has definately been the most frustrating thing we have done so far, even worse than picking rocks for days out in the pasture. It really was a rough week for us, the feeling of accomplishing nothing when we were putting so much into it was really bringing us down but we got through it in the end and have a beautiful fence that will keep my doggies safe to show for it!
~Perserverance is the work you do after you get tired of doing the hard work you already did~
Newt Gingrich