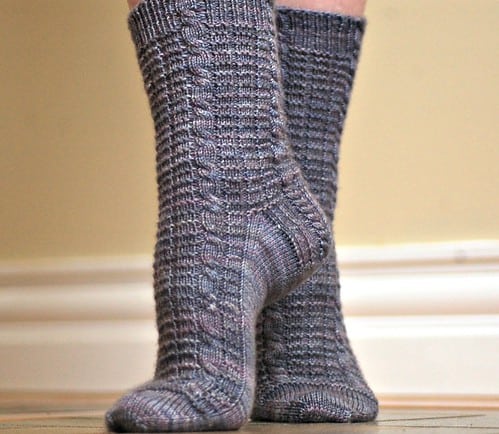 Pattern:Smokestack Socks by Tanis Lavallee
Yarn:Tanis Fiber Arts Purple Label Cashmere Sock in the Dove colourway
I recently had the pleasure of testing another pattern for Tanis Fiber Arts
The Smokestack Socks pattern is another timeless classic, a unisex pattern that will suit absolutely anyone!
Smokestack is the sock version of her Brixter hat, genius and works perfectly in sock form. I love the simple mix of purl stitches and cables.
I got to try out Tanis Purple Label Cashmere Sock for the first time with these socks.            Merino/Cashmere/Nylon…. need I say more??
It was like knitting with fluffy kittens, so soft and scrumptious!.
The Dove colourway is a popular pick when it comes to Tanis yarn and rightfully so. A beautiful mix of light and dark grey paired with the perfect purples. Not only a unisex pattern but a unisex colourway too!
More of the varigations in the colourway show up when a bit more natural light is used. I love seeing those little strips of colour.
My favourite part of these and Tanis' Patina socks that I'm currently knitting is that she carries the pattern down the heel. While knitting my Smokestack heels I just kept thinking "that is such a pretty heel" while stopping to admire them. In my opinion this little design feature adds so much.
 I don't know how Tanis always manages to create those "potato chip" sock patterns. Betcha can't knit just one??
I'll be knitting another pair of these for sure because I ended up gifting them to my mum yesterday. I just keep thinking "It's ok that I gave away the cashmere socks, It's ok that I gave away the cashmere socks"…. hehe
I have been promising her a pair of socks for over a year now so it was time and they will be all that more special in cashmere.