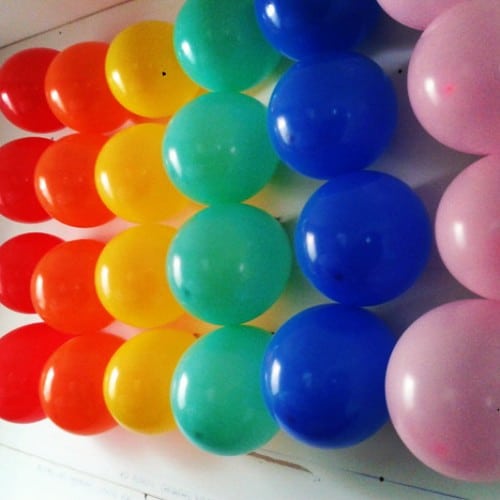 Today was my sweet girls 5th birthday party!
Where has the time gone??
This is the second year we have had a birthday party with T's friends and I'd have to say this one was A1!
T wanted to do a rainbow party and it was pretty easy for me to add art into the equation. Any excuse for children to create and I am there!
I made a bday wreath for the door.  I got the idea from my friend Lacey who made one several years ago for her oldest. I'm pretty sure she used smaller balloons and a TON more than I did but this mama was in the "get'er done" mode. So it's just balloons pinned to a12″ straw wreath which you can see due to the angle I took the picture. I added a few curly pipe cleaners that I wound around a pencil and bob's your uncle an instant party wreath. *Now I just need to work on buying a wreath hanger instead of tying it up with washi tape  I am resourceful if nothing else!
I bought a bulk pack of canvas from Michaels so each girl had a 12×12 canvas to paint and take home. Instead of making a picture I gave the girls strips of thin painters tape. They choose where to put the tape before the painting began.
Once they had finished painting and BEFORE the paint was dry we peeled the painters tape off and created a really cool mosaic art piece.
We also made stretchy bracelets with rainbow beads and beads with letters so the girls could spell out their names.
We had a slight problem making the knots stay put in the stretch elastic so here is a little help if you plan on doing this. Knotting Stretchy Bracelet 
The last activity was a treasure hunt in the backyard. These are always such fun and it's definitely a highlight of a homemade birthday. Watching them run around pondering and searching for each clue is so much fun.
T opted for sandwiches, fruit and veggie for her party, so much better than pizza that they only take a few bites out of. They ate their fill of fruit and veggies, watermelon being the favourite, and then it was on to the cake. * I love chatting with kids while they eat. There are always some cute stories shared, opinions, likes and dislikes.*
Lastly lets talk about the cake. The cake is probably my favourite part of the birthday party. I'm definitely not the best birthday cake maker in the world but the kids think my shoddy creations are great *right now anyway* so I'm just going with it.
This year I wanted something pretty simple. I made a white cake and separated the batter into several bowls, each bowl being a different colour of the rainbow.
I baked the cake a week ahead of time and froze it until the day before. *Definitely key to my sanity come party day*
 I frosted it with white frosting, added stripes of smarties and volia.
Now would you like to hear the story of the smarties?? *groan* T and I picked up a bag of smarties at the store the week before her party. I had originally thought skittles but T discovered that smarties had ALL the colours of the rainbow plus pink and the skittles did not. We came home with smarties but when I was decorating the cake the morning of I ran out. Some stripes weren't completed so I ask Moose to go to the store and pick up a bag of smarties.
Rule #1 NEVER ask a man to go to the store for something specfic!
I told him it was a BAG of smarties and they were on the top shelf in the candy aisle.
Rule #2 Even though you state EXACTLY where the product will be NEVER ask a man to go to the store for something specific!
He comes home, 15 mins to spare with a bag of other food and a clear plastic bag of BULK smarties lookalikes……
*cue steam rolling out of my ears*
They weren't even the same colours!!!!
RULE # 3 No matter how specific or simple your instructions may be just go to the store and get it YOURSELF!
So the cake wasn't what I had planned but I made it work as best I could considering what I had to work with.
The kids didn't seem to notice and it still got eaten. There was one girl that picked all the smarties off and didn't eat them….what is that? If I could eat smarties I definitely wouldn't be leaving them on my plate!
Quite possibly my best party brain wave was asking NOT to bring presents. Instead we asked that each child bring a few dollars so that T could pick something from the World Vision catalogue for a family. So much better than being unloaded with tons of toys when the girl just wanted to have fun with her friends. She was excited to be able to purchase a piglet, 2 hens and a rooster!
We love you birthday girl!
So happy to be able to bring your rainbow party ideas to life but I won't mind at all if you want to stay 5 for an extra year, you are growing oh so fast!!
PARTY!!! Wait what?? Party's over?? Oh man!!
~ Molly~