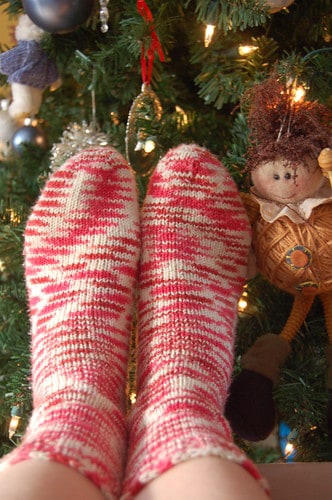 The last FO of 2011 that I have yet to blog about., my Peppermint Pukes. These socks were started in Cat Bordhi's sock class that I took at KnitEast. It was Cat's Discovery Sock class and we used her recipe to knit them. I was quite surprised to discover that knitting plain socks Cat's way I only need 48 sts!  Yes my friends 48 sts! That leaves a lot of leftover sock yarn. I have worn  these a lot since I cast off and they still fit great. The only thing I'm not sold on is the way we did the heel. It doesn't sit right on me and constantly slides up and down but that's an easy fix. I'll just substitute Cat's Heel for a different one and I'll be all set. I'm also undecided about the pizza toe… it fits well and feels ok on but it looks kind of poofy on your foot.  Looks like I'm still searching for the perfect "vanilla" recipe for my feet but I'm getting pretty close.
Thank you to all that took the time to vote for T's Rossbeg cardigan a few weeks ago. T's cardi won in her category and Monika's shawl won in the accessories. I received my package of goodies yesterday in the mail and wanted to show you what arrived.
The pink yarn is Donegal Yarns  Soft Donegal, and the brown is Plymouth worsted superwash. T has taken to the lanyard and calls it her dog collar Thanks so much Carol for the lovely package!