I have been oh so patiently waiting for January to come so Tanis could release all her 2013 club patterns into the wild.
Tanis designed this gorgeous sock pattern Patina at the start of the year and I knew right away I wanted to knit them so when it arrived in my inbox upon release I squealed with delight. *Thank you Tanis!*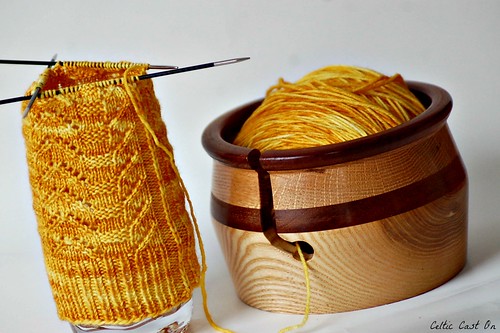 Of course I couldn't wait to cast on but I had just cast on for my Carolina socks and needed to get those ones off the needles so I could use them for my Patina's. *Note I need to get another pair of Karbonz!*
I bound off those socks this weekend and cast on lickety split for Patina
To say this pattern is addictive would be an understatement, I had to drag my butt to bed before I stayed up insanely late *in my books* working on them. I dug deep into my stash for this yarn. I needed something that wasn't going to obscure the overall pattern and with the January thaw we've been having I thought yellow would be a perfecty warm colour.
This yarn is a Kona base that I dyed myself many years ago. I'm glad that I am finally getting the chance to use it and see what my dyeing efforts produce.
So far I'm really liking it!