There has been a lot of finishing going on around here and that has left me with absolutely nothing on the needles. I kind of had a little freak out session because I had no idea what to cast on. Things were going to be arriving in the mail that I was going to be casting on with but until then I needed something mindless and small…..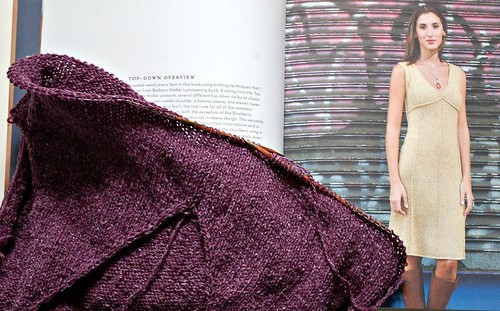 so I cast on for a dress…. that's small right??
The pattern is Jill's Dress from the book Modern Top Down Knitting. I love everything about this book and have many more projects planned to knit from it too.
I've had the yarn for this one since T was born so I think it's high time that I turn that stash into a dress don't you? It's working up quite quickly in Elsebeth Lavold Silky Wool, a DK weight yarn. I don't want this one to drag on and would love to be wearing it right now so we'll see how quickly I can whip this one up.
After all those cables I am enjoying the stockinette zone!
Oh and just in case you are interested, Melissa of Dandiliongirl Designs, you may remember I test knit her Downton Girl, is having a 50% off sale. Just enter the code spraytan to receive your discount.
Alicia of Two Little Plums, you may remember I test knit her Woodstove Season and Splitstone, is also having a 50% off sale. Enter the code allupinyogrill to receive her discount.
The sale is only on until Monday so it get while its hot!