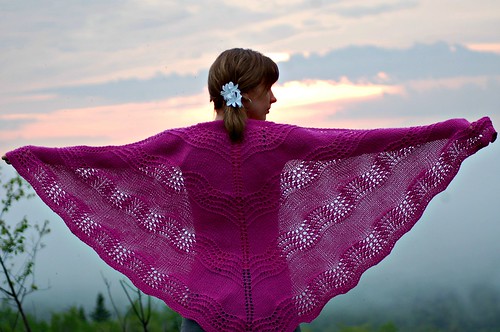 Pattern:Old Shale Shawl by Amanda Clark
Yarn:Berroco Vintage Colour # 51108
Needles: U.S. #10 / 6mm circs
I was asked to knit a prayer shawl for someone in need recently. I was given a pretty plain knit and purl pattern but it seemed a bit boring and monotonous.
I wanted to knit something that would be unique to the recipient. A shawl they probably hadn't come across before keeping in mind that it had to be big enough to wrap up in and keep them cosy.
This shawl fit the bill exactly. Old Shale is a free pattern on Ravelry and knits up quickly on 6mm's with worsted weight yarn. I think this would make a wonderful blanket style shawl with a bulky yarn too.
Choosing a colour to knit into a shawl for someone you have never met can me a lengthey process. My LYS said people most often chose purple for prayer shawls so I knew I wanted to skip the purple if I was trying to make this shawl unique. I picked out a few colour options and then let my trusty side kick have the final say. Hopefully the recipient likes pink.
I used Berroco Vintage so the shawl would be easy to take care of. It's washable and I won't have to worry about someone throwing it in the wash and shrinking it into something T sized.
I will definitely keep this pattern in mind for future prayer shawls.
Hopefully this shawl will bring much comfort to its new owner.