So Tuesday night was all excitement on the ridge. I donned my new……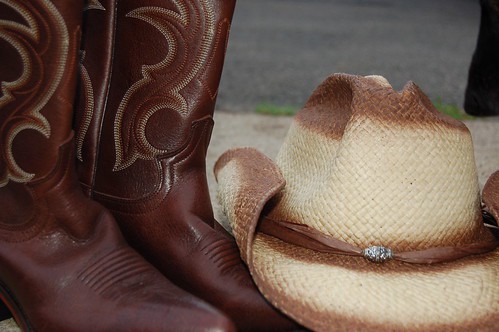 My new cowboy hat and REAL cowboy boots……. I'm in love!!!! I got these at Sheplers in Kansas, I'm in love with that store too!!!! Laura took us there to get Moose a cowboy hat and I end up getting boots *insert cheesy grin* I wanted everything there, it all was so dang cute!!
We wore our hats home from Sheplers, I think Laura thought we were crazy but man was it worth it.
Anyway as I was saying I donner my hat and boots and we were off to a good ole country concert.
The main event was Mr. Brad Paisley
woooo weeeeee he is fiiiiiiiiiiiiiiiiiiiiiiiiine!
Opening for him were Taylor Swift,
That girl has an amazing voice and ability to write songs for being only 17!
And Rodney Atkins, he's not too shabby either Seriously though he plays some great music, if you don't recognize the name check out his my space here
 Its rare to see three awesome acts in one show so we really lucked out and it was sooo worth it.
Earlier on in the year I got tickets for mum and dad too, I think they enjoyed it. No hats for them but dad did have his cowboy boots on *wink* like father like daughter.
Have a great day everyone and go crank some country!!! That means you JEFF!!