We have knitting!!!
Tadpole is getting into somewhat of a routine…. enough so that I can pull a project and knit a few rows ahh bliss.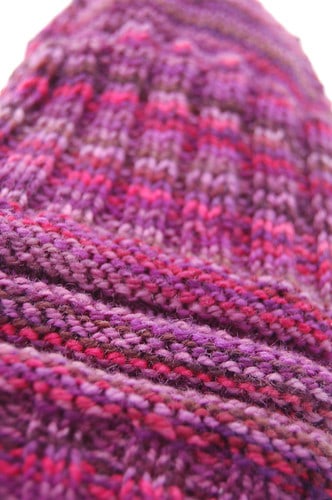 I cast on for the Mojo socks by Donyale Grant
I love how these knit up in a solid colourway but I'm running low on solid sock yarns so in order to use up the stash I chose Claudia's Handpainted in Plumilicious. They are not turning out to bad, no pooling and the pattern seems to show through quite nicely.
This is the first toe up pattern I have attempted and I think I like it. The pattern uses the Magic cast on, which is demonstrated here by Cat Bordhi, love her teaching method. The cast on was so easy and will definitely be my go to cast on for toe ups. I also love how you can try it on as you go and boy did that foot ever knit up fast. I'm wondering how the gusset and heel are going to be knit but if all goes well I think I'll be investing in a couple of sets of circulars for this method of sock knitting.
I'll be knitting these socks one at a time because each sock has its own pattern. This should keep it interesting and hopefully avoid SSS.