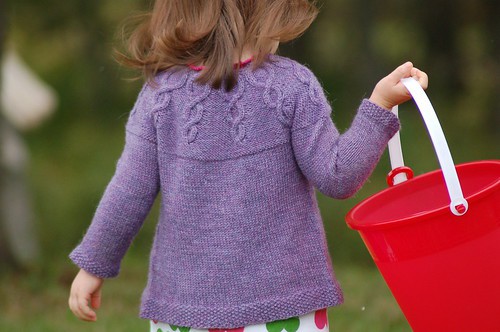 Pattern: Miss Korrigan by Solenn Couix- Loarer
Yarn: Berroco Ultra Alpaca Light colour 4283
My test knit for Solenn
Miss Korrigan is sized for children 2 – 12 years old but if you really like this pattern and don't have a child old enough to knit this one  for yet you can buy the original Korrigan which is sized from birth to 24 months.
I loved knitting with Berroco's Ultra Alpaca light it really is as the name implies LIGHT. The completed cardigan is incredibly light yet soooo warm with the alpaca content. I can definitely see some more garments made out of this, possibly one for myself!
These was just the right amout of cabling to keep your interest before some lovely mindless stockinette to end it off.
This truely is a beautiful little cardigan and I can see T wearing this in the many sizes to come. I'm already thinking of knitting a size 4 with shorter sleeves for the spring and summer. Is it only me wishing for summer again?? As I was taking these photo's it was actually snowing!!! If you look carefully in the pictures you will noticed little white flecks… those are actually snowflakes.
Thankfully they didn't last or stick to the ground but Oct 6th was the first snow on The Ridge this year.
I knew I wanted little shell buttons for this cardigan and I'm so glad I didn't settle for any old button.
T wore this to her music class yesterday afternoon. It tickled me to no end that you was pulling the front out saying "This is my new cardigan! See it?" to her teacher.
There will be no end to the handknits for you T. You definitley wear them with pride and rock them!