If you didn't already know Tanis' baby boy arrived into the world a few weeks ago. Go have a peek if you haven't already he is scrumptious! When I found out Tanis was expecting, last summer, I set to work to find something to knit for her. I must have changed my mind a hundred times, choosing a pattern and colour for someone else is tricky business! She decided not to find out the sex but for some reason I chose a boy pattern to knit and tuck away just in case she did have a boy.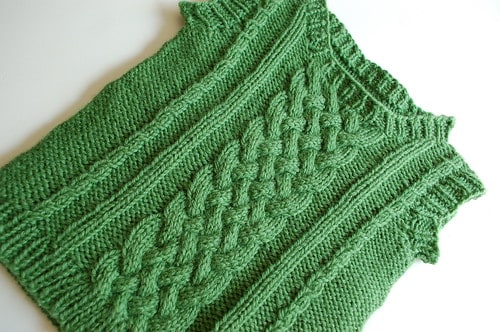 This is the Master Charles pattern by Tot Toppers. I chose not to knit the sleeves thinking he would look rather dapper with a button up shirt underneath or the like and still have lots of room for movement.
The pattern is knit in the round from the bottom up to the arm pits then working the front and back separately. I picked up 32 sts around the armpits and working an inch or so of ribbing to finish it off.
When Rowan arrived I pulled the vest out to make sure everything was ok before I sent it and started to worry that this was going to be waaay too small. Not having a baby in the house anymore makes you forget how small they actually are.  I got T to put her arm through the armhole and when I saw that her arm fit with some room I calmed down a bit and figured it would most likely be ok for him too 😉
Hopefully it will fit him at some point, preferably NOT in the dead of summer!