It has to be said that the Business Casual KAL definitely took up all of my blogging time. I had no idea it would get so big but I'm glad to be able to get back into my regular blogging schedule again.
I recently finished a test knit for Andi Satterlund of Untangling Knots. You may remember Chuck and Agatha that I have previously test for her. I adore both of those knits and wear them often so  I knew when she posted her yellow version of Marion that I needed to add it to my wardrobe too.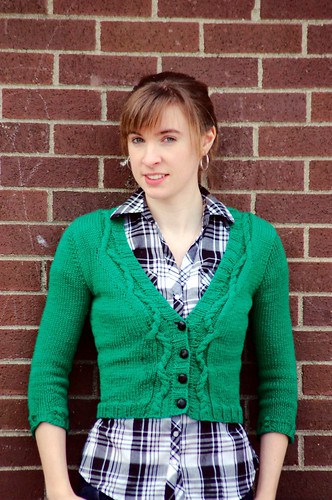 Pattern: Marion by Andi Satterlund *pattern still in testing*
Yarn: Cascade Yarns 220 Superwash in colour 864
Needles: 5mm
I have had my eye on this colour of Cascade Superwash at my LYS since last summer. I loved it from the get go but was unsure what I should knit with it.
When Andi asked me to test I knew right away it had to be this colour. Thankfully they had just enough skeins left when I went back to check.
I did something a little different with this photoshoot. I really wanted to show how fabulous this little cardi looks casually as well as dressed up.
You know I love to add things to my wardrobe that are multi functional.
 For Casual I paired it with my favourite jeans and plaid shirt. I will likely wear it with jeans most of the time because there isn't a lot of cause to dress up running around on The Ridge.
I do however like to wear a dress any chance I get so when the occasion arises I'll reach for my favourite polka dotted one. These cropped cardigans look so great with dresses that have full skirts.
I was once again stumped when it came to buttons for this cardigan.
I bought silver and green buttons but kept coming back to some brown wooden ones I had in my stash. It was a nice contrast but the issue I had with the brown is that I knew I wanted to wear it with my black dress and I just didn't think I could handle the brown buttons with a black dress. Yes I am weirdly anal but colour matching.
Finally I tried some black leather look buttons from my stash and had a hand to forehead moment. Why didn't I think of black to begin with!
 I can't gush enough about Andi's patterns, the construction, the style, all so perfectly perfect.
I will no doubt be in line to cast on her next pattern.