I'm joining Claire today in Making Winter 2013
The idea being that we post once a week things that we are doing for fun to get through the winter.
On the weekend we had a Nor Easter blow through. We didn't end up with much snow because of the blizzard like conditions and lots of drifting.
Since we couldn't go outside to play in the snow, we set up in the kitchen to make some new play dough.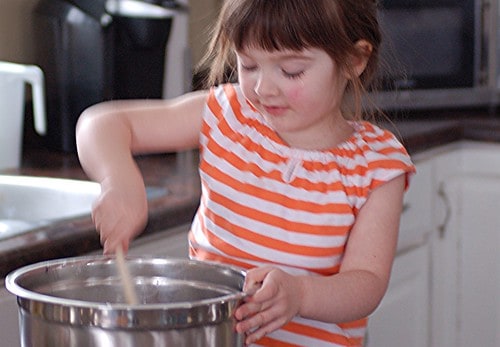 We tried salt dough, but while we were in the process I realized I didn't have the cream of tartar called for in the recipe.
We forged ahead to see if it would work without.
We used food colouring which worked very well but made our hands turn a rainbow of colours.
The dough did turn out in the end until I put it in an air tight container to store away….. the next day we opened it up to find it had completely gone to mush.
After our flop with the salt dough, we went back to a recipe that was quick, easy and that we knew would work.
Kool-Aid Playdough
Ingredients:
 • 1 1/4 cup flour
 • 1/4 cup salt
 • 1 pkg unsweetened Kool-aid (we use two)
 • 1 cup boiling water
 • 1 1/2 Tbsp vegetable oil
Directions:
 1.  In a bowl, mix flour, salt and
     kool-aid.
 2.  Stir in water and oil
 3.  Knead with hands for about 5 minutes.
Perfect every time!!
How are you getting through this weird winter?
Join us with your own Making Winter post!