I needed a quick knit to warm my noggin and there was one particular pattern that I just couldn't get out of my head.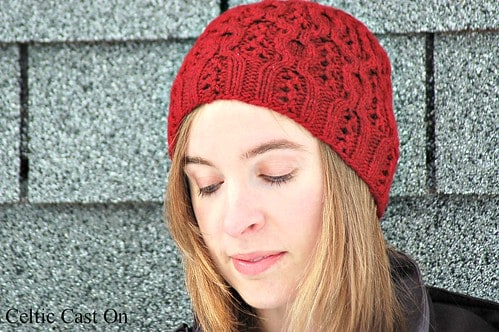 Pattern:Magda Beanie by Julia Trice
Yarn:Colour Adventures Bella Worsted in Sour Cherry
I had just enough yarn left over from my Elia sweater *also by Julia Trice* to make this hat. I have been dreaming about a red winter hat since the Fall and when Julia released the Magda Beanie I knew it was the one.
I wanted something fitted this time around. Magda is a perfect mix of cables and lace that really pops with Elena's saturated colourways.
Wishing I had one more skein to do a matching pair of mitts… maybe I'll find something in my stash that will coordinate nicely.
 It's been a while since I've had such a quick knit on the needles.
I'm looking forward to casting on a few more hats as soon as I wrap up a couple of WIPs.