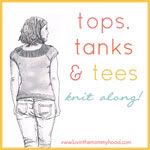 I've joined the Luvinthemommyhood: Tops, Tanks and Tee's KAL
Cast On date was April 11th 2012
Cast Off is May 23rd 2012
Basically you pick any top tank or tee your little heart desires and knit it. There are a TON of people over at the Luvinthemommyhood forum on Ravelry chatting about their patterns and yarn right now. This is seriously a fun KAL.
I chose to knit Farrah…… correction I chose to knit Gemini but then I remembered I'd told my mum that I'd start a sweater for her when I got back from Ireland so I decided on that instead.
I had a kit for Farrah in my stash that I received as a gift.
I was a bit iffy with the yarn at first, it's Berroco Glint, a cotton, nylon, metallic yarn, not really my style.
I do  love the Farrah pattern but thought that the colour in the kit was just a bit too light for me to pull off . I did however think the colour would suit my mum very much, she wears the colour quite off as it is.
I'm very surprised by how much I am enjoying this yarn. The beige colour has a beautiful coral throughout and its almost knitting up in stripes here and there and you know what….. I LIKE the sparkle…… there I said it! I LIKE THE SPARKLE!!
Farrah has a pretty simple stitch pattern, rows of stockinette between lace panels. It's proving to be a good knit for reading.
The other knit I have started *I'm not sure if this will qualify for the KAL or not, have to ask the Big Wig aka Shannon* is Capricious, a test knit for Elena Nodel of Anadiomena. It will be the adult version of her Poppy Cardigan
Capricious uses a contiguous method, developed by Susie Myers, that allows you to
shape shoulders and knitting set-in sleeves without a use of a single short row.
Genius I say!!
I'm using some stashed Rowan 4 ply cotton for this one. It's knitting up with a nice drape that I think will be perfect for this cardigan!